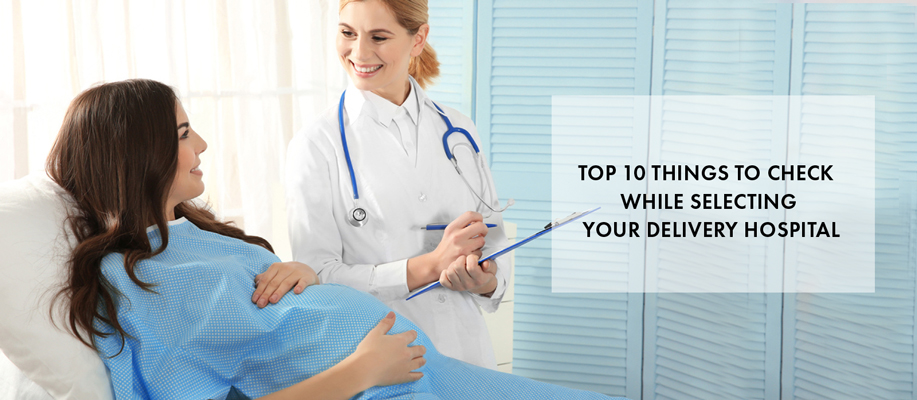 1. Doctor's credentials
Check the gynecologist's credentials, experience, and reviews on their website, as well as the gynecologist availability during emergency situations. Choose your maternity doctor based on their expertise and round-the-clock availability.
2. Check who actually performs the delivery
In some hospitals junior staff / RMO (although trained but BAMS doctors) may perform the delivery procedure. So choose the hospital where the gynaecologist is performing all the procedures, delivery, episiotomy suturing  during the pregnancy or delivery.
3. Look for 24-hour availability
The maternity hospital's staff should be accessible 24 hours a day, seven days a week. This is due to the fact that pregnancy is a condition that may need an unexpected visit to the doctor. This might happen at any time of day or night. Recognize the amount of time you will need to visit the hospital. Also the gynecologist who takes responsibility for the birth at odd hours.
4. Lab and scan facilities
Choose a maternity hospital that offers all laboratory testing, such as a blood examination, prenatal ultrasonography, and a scan to monitor the baby's movements and development.Multiple sonography are required during pregnancy.
5. Hygiene
Cleanliness and hygiene in the labour room and throughout the hospital.
6. C-Section Delivery Facility
If your pregnancy necessitates a C-Section, the necessary medical equipment and staff should be ready to treat the situation properly.
7. Emergency Services/Intensive Care Units
If anything happens during pregnancy, having a staff and the necessary tools to address an emergency situation is important. The hospital should feature an intensive care unit (ICU) where patients in serious conditions may be properly cared for.
8. Hospital facilities such as the neonatal intensive care unit (NICU) and the adult intensive care unit (ICU)
Although the infant does not need to be transferred in a neonatal intensive care unit (NICU) in most situations, it is nevertheless essential that the maternity hospital be well-equipped to manage any last-minute emergency. This may be handled by having a neonatal intensive care unit (NICU) and an adult intensive care unit (ICU).
9. House's proximity
The maternity hospital should, of course, be as near to the mother's home as possible. Throughout the pregnancy, the woman will need to attend the maternity hospital for check-ups and testing on several occasions.
10. Patients review
Check the review of the patients who get treatment from the hospital and testimonials in the hospital website about what other patients are telling about the hospital and procedure.
KK Speciality Clinic & Hospital in Dahisar is one of the best Delivery hospitals in Dahisar.
Delivery gynecologist Dr. Kausha Shah and Dr. Minaxi Doshi are highly specialised in Normal delivery. Normal delivery is the preferred mode of delivery at KK Speciality Clinic & Hospital. Cesarean section is reserved only in cases where normal delivery is not possible.
Delivery cost is kept low starting at 20,000 rupees, so as to be affordable for all sections of society.
For more information visit: K.K Speciality Clinic & Hospital – Gynecology, Maternity, Orthopedic Nursing Home & Multispeciality Hospital in Dahisar: Ground Floor, A Wing, Sunder Baug CHSL, Swami Vivekananda Marg, Opp. Manav Kalyan Kendra, Dahisar East, Mumbai – 400068
Contact -Phone: 99307 75754
Appointments: https://kkspecialityhospital.com/